LIFEGUARD EXAM 2022
The National Environment and Planning Agency (NEPA) hereby advises the public that the licencing process that was used to facilitate lifeguard renewals in 2023 will again be implemented for the 2023 licencing period. Current lifeguards with licences expiring in 2023 are eligible for this process. New lifeguards will be subjected to an assessment by the Agency before being considered eligible. The process is outlined below.
                                                                                                   KEY DATES
Jamaica Life Saving Society (JLSS) training is scheduled to take place the week before the opening of the NEPA renewal application window. New lifeguards will need to attend the full 5-day period of training during any one of the training periods and be assessed by the Agency on the final day of training. Lifeguards requiring recertification may attend for one or two days during any training period. Candidates may contact the JLSS or Mr. Stuart Fraser at 876-381-4136 for more details regarding training.
Hotels, water sports facilities and other stakeholders in the tourism and entertainment industry are advised that the Agency will grant an extension on the validity of lifeguard licences until 31 October 2023.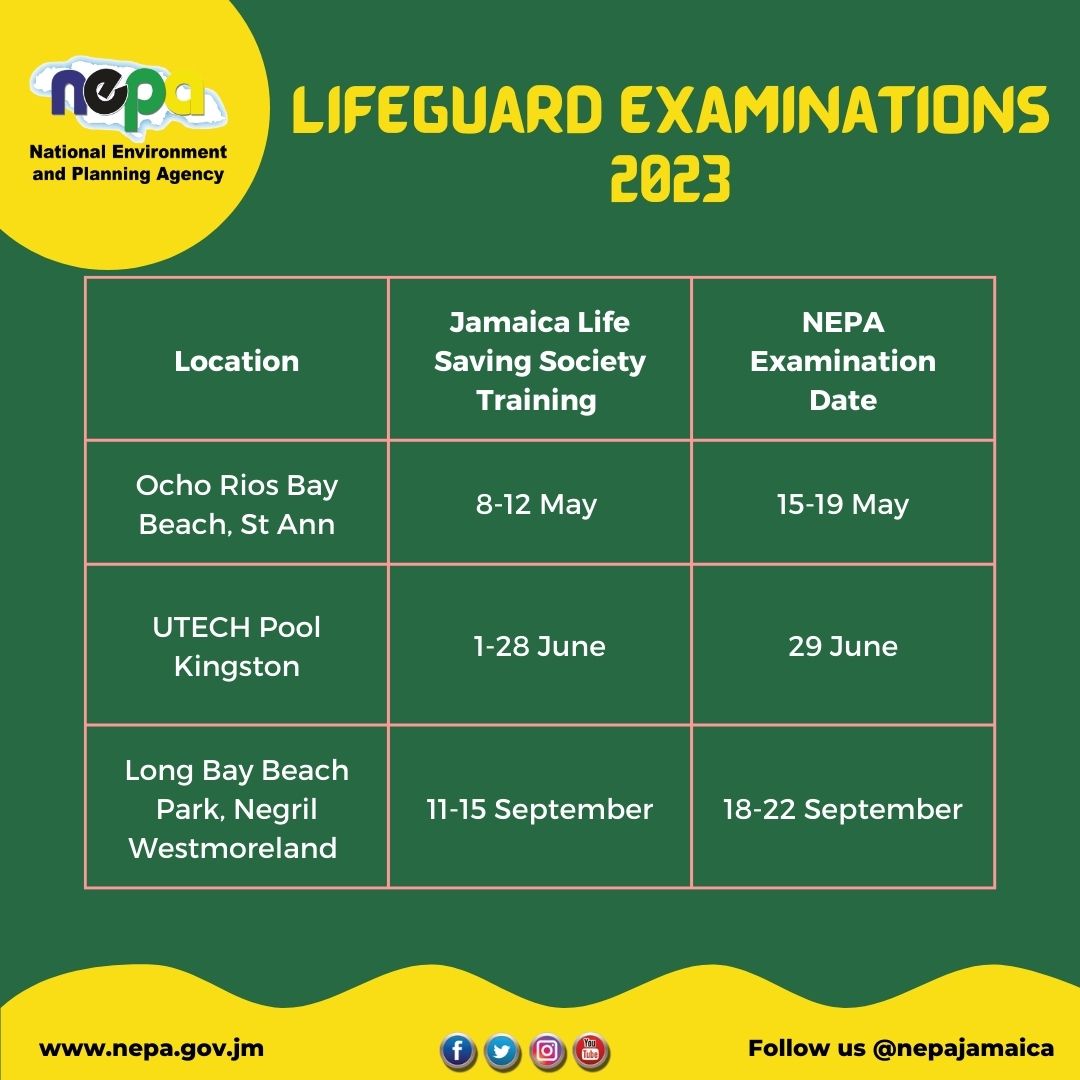 APPLICATION
The following documents are to be submitted electronically via email to lifeguard@nepa.gov.jm.
Application form (available at www.nepa.gov.jm)
Valid JLSS certificate
Valid ID/expired licence
                                                                                              PAYMENT OPTIONS
The fees to be paid are $3,800.00 for renewal and $4,000.00 for new candidates. Payment may be done through:
Online payment via direct deposits
Bank vouchers
Manager's cheque
Payment at the cashier (NEPA's Head Office, 10 Caledonia Avenue, Kingston 5)
Banking Information:
Bank: Scotiabank
Branch: Cross Roads
Account Name: Natural Resources and Conservation Authority
Account number: 42811
Type: Current
Note: Receipts for these transactions should be kept and copies uploaded along with application forms.